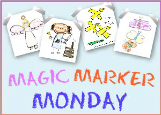 Inspired by our trip to
The Seattle Art Museum
Diva and I decided today was a good day for some art. In hopes of coaxing Frog to join us, we choose finger paints outside.
Frog has never been into art projects. He will usually scribble a line or two to humor me, then do everything possible to get out of there. We bought some large rectangular bee's wax crayons - he likes the way they feel when he bites them. He used to bring home lots of fun and creative art projects from school. I suspect we displayed a lot or Para Educator Julie's art on our refrigerator. For our home school projects we try to keep everything very sensory based - playing with colored water, pouring birdseed over peanut buttered pine cones, dropping feather or sand or rocks onto a gluey piece of paper, etc.
Today I taped finger painting paper to our fence and filled our sensory table with small tubs of different colored finger paints and a big bowl of water. Frog was enticed to join us by the big bowl of water. He also enjoyed the squishy paint. With a little hand over hand he agreed to participate putting paint to paper and moving it about. The end result was really something interesting. I took the paints and water back into the house and came back with my camera.
There was not much left to take a picture of but Frog had gone back to the art on his own. When asked if he liked his picture he clapped twice - that's YES in Frog speak
Here is Diva's creation for the day -